Sheet Piles are sections of sheet materials with interlocking edges that are driven into the ground to provide earth retention and excavation support. Sheet piles are most commonly made of steel.
Sheet piles are commonly used for retaining walls, land reclamation, underground structures such as car parks and basements, in marine locations for riverbank protection, seawalls, cofferdams, and so on. Permanent steel sheet piles are designed to provide a long service life. For the development of sheet piles, there are two main techniques: hot-rolled and cold-formed. At high temperatures, hot rolled piles are produced and the interlocks appear to be stronger and more resilient.
Please reach out to our sales manager with your requirements & we will be able to advise on stock availability and lead times.
Types
Steel sheet piling is manufactured in three basic configurations: "Z", "U" and "straight" (flat). Historically, such shapes have been hot-rolled products produced at structural mills. Like other shapes such as beams or channels, the steel is heated in a furnace and then passes through a series of rolls to form the final shape and the interlock, which allows the sheet piles to be threaded together. Some use a cold-forming process in which steel coil is rolled at room temperature into the final sheet pile shape. Cold formed sheet piles have hook and grip interlocks.

Z-Type Shape
The Z type configuration is generally considered the strongest and most efficient.
These shapes resemble wide-flange beams, having a web and two flanges. The interlocks are located out on the flanges at maximum distance from the neutral axis, and this provides a high section modulus for resisting bending moments.
Because of this, Z-shapes have traditionally been used for heavier construction projects. However, they are now complemented by the arch or U shapes for lighter work, and lightweight Z-shapes have been also introduced into the marketplace.
Because of their inherent strength, Z-piles can be handled and shipped with less exposure to possible damage than some other style sheets.
Z-piles are generally used in constructing straight wall structures – cofferdams, bulkheads and retaining walls.
U-Shape Piles
U-type sheet piles are not generally used in some area as they are not as efficient or economical as Z-type sheet piles. Interlocks on u-type piles are located on the neutral axis of the pile, so the sheet piles must be crimped in order to achieve their full capacity. These types of sheet piles are still available in the international market.
Flat Sheet Piles
Flat sheet piles are used for circular cell applications where the cells form a gravity structure. The sheet piles are interlocked together to form individual cells, or a series of cells, and are then filled with soil. Whereas z-type sheet piles require resistance in bending, the strength of the flat sheets come from their interlocks. Flat sheet interlocks are larger than those on z-type sheet piles and are designed to resist significant tensile forces. Flat sheet piles have limited bending capacity.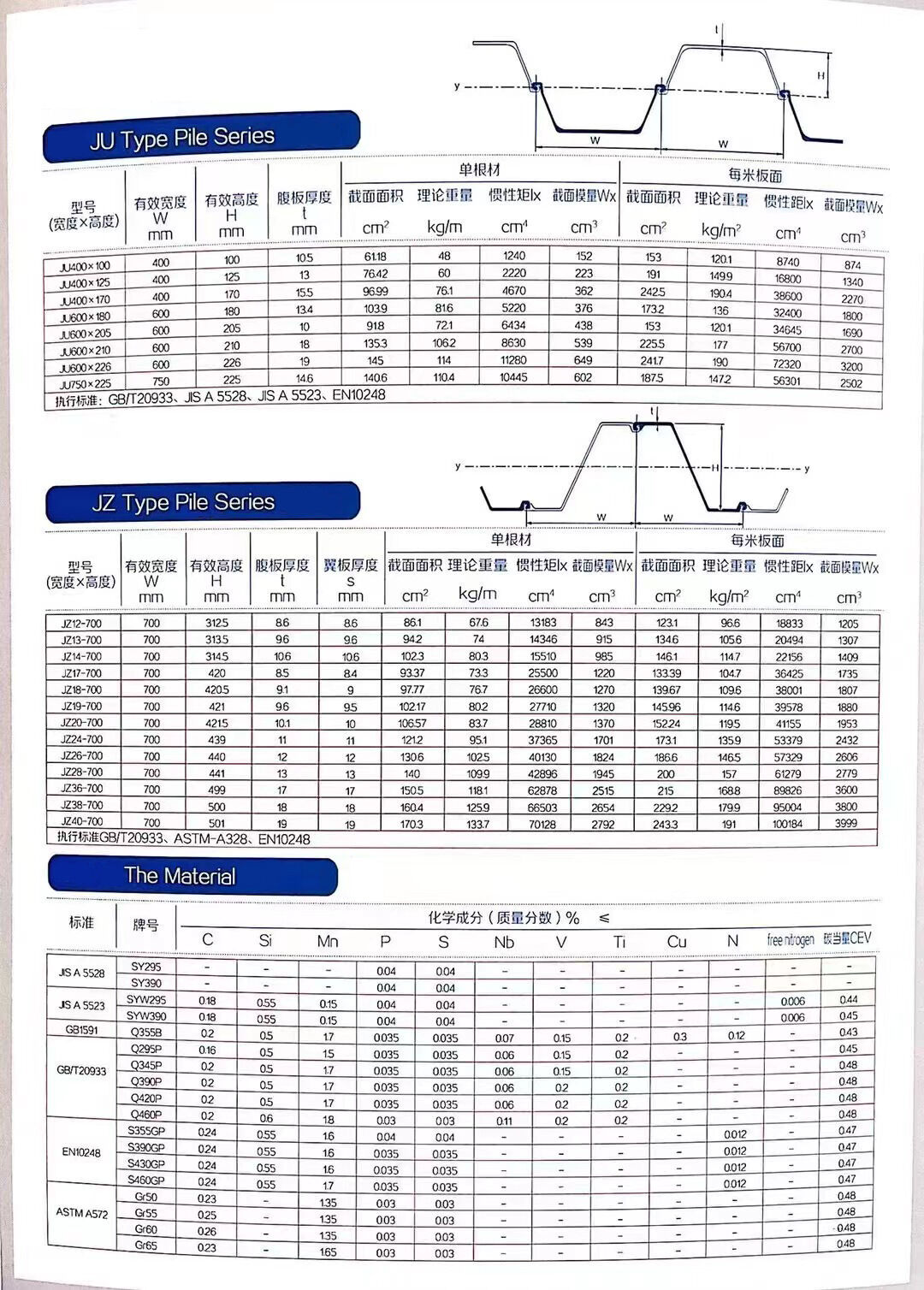 ZZL provide interlocking steel sheet piles that form a high strength sheeting system, ideal for supporting the vertical faces of large excavations.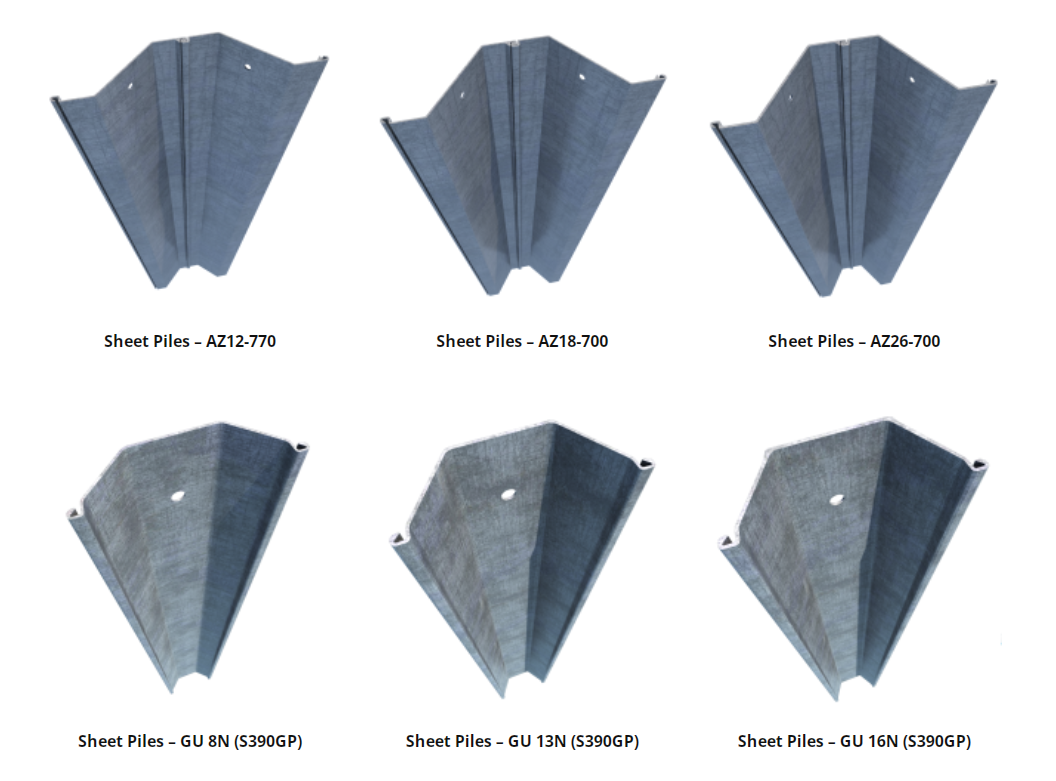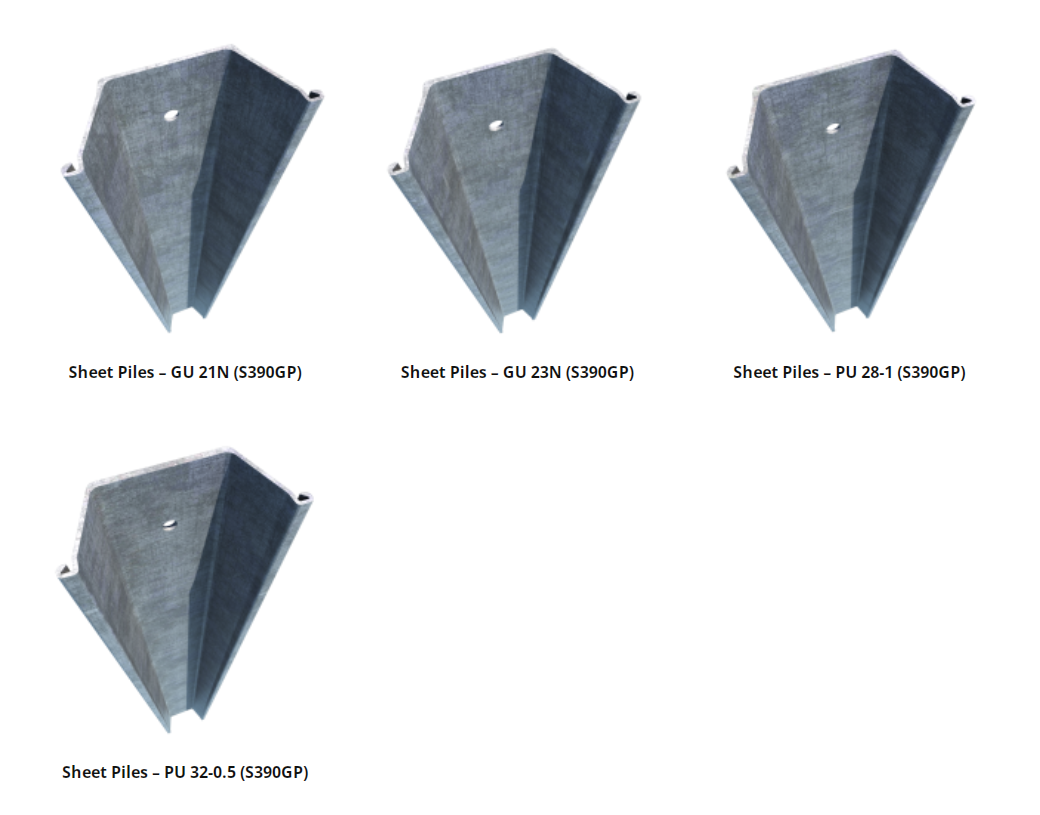 Advantages Of Sheet Pile
Recyclable and reusable
Available a wide range of lengths, size and steel options
Can be used for temporary and permanent structures
Can be installed using silent and vibration-free methods
Quicker installation than contiguous or secant walls
Cofferdams can be constructed in almost any desired shape
Provide a close-fitting joint to form an effective water seal
Light in weight, making lifting and handling easy
Length and design of the pile are easily adjustable
Joints are designed to withstand the high pressure necessary for them to be placed in place
A little maintenance is needed above and underwater
Applications
Bulkheads – from small retaining walls for private marinas to large dry docks, ports, and other infrastructure projects
Cofferdams– temporary, in water or on land, to permit excavation for and construction of permanent works
Cut-off Walls – in connection with earth or concrete dams or dikes to retard seepage
Environmental Barrier Walls – for contaminant containment purposes
Temporary and Permanent Retaining Walls
Seawalls, Flood Walls, Dikes, Jetties, Groins
Navigation Lock Walls and other large navigation structures
Mooring and Turning Cells, Dolphins
Barge Docks – consisting of individual cellular structures
Bridge Protection Cells – to protect bridge piers from shipping collisions.
Bridge Abutments
Temporary or Permanent Below Grade Shoring – for basements and parking structures
Artificial Islands
Need any help? Contact ZZL Today.
Contact our team via phone, email or use our live chat feature between 8:30am & 17:00pm for help discovering our range.